- "Not so far, you should turn on behind that sign there and you will be very close"
I do not know that in the mountains the far means near for them or just we have such bad luck:-0. After 4 km walk arrived hungry and thirsty as hell. We found a nice place with delicious food (cream of beet for Gruszka and my soup-cream of mashrooms) and drinks ;-). The evening passed on memories from our trip but also in the planning approach to Kasprowy next day ...
Tuesday 27/12/2017. Whiteout, wind, low temperature. Gruszka if not her some problem, she probably drag my by hair on Kasprowy :-). This time the flag SRTG taken such a plan, we are going on foot (hahaha this option didn't work, although if insisted a little snow we saw) we ride up, do 30 burpees and ride down.
Tickets bought. We, crazy skiers and a group of Russian tourists with an infant in pram. Normally the Poles would surprise me, but that they were Russians are somehow so natural it seemed ;-).
On the way to the top enjoying the view (not much to be seen but I have a vivid imagination what helped me to draw the rest). Ski runs closed, temp. -10st C and blizzard did a job. Our faces cutted by snowflakes, wind pulls into the abyss but whatever the mission must be accomplish (more than a year ago if someone had told me that I have to do burpees (and what the f... is burpee? It would have laughed at him but as you can see, our life is unpredictable and surprising and even now at the top of the pyramid if we could we will do burpees there). Short walk probably do not know for what and where because everywhere you see only snow and snow;-). Gruszka was thrashing like a leaf the wind but as befits a camera operator she fell into the role so that almost bumped into a guy and almost fall him down and even rescue helicopter it would not help here... I know that the I hang on somethimes but I did not think it was to give to others; d
Position to burpees adopted, the flag SRTG Debica hanged and... we have audience. Five guys standing and looking at us. I say: "Instead of becoming so I invite you to challenge" ... "And what are burpees?" - asks one of the man. I didnt explain I show them. I ended up on the fact that "I persuaded two of them" (this is the gift of persuasion ;-) to one common burpee. The rest I've done by myself.
When I wondered how it would do it in Svit at even lower temperatures, when there was a terrible and at times lacked of breath. It's saying: "Where the devil can not go somewhere, woman he will send". He would have to think about it because these two girls are capable of wipe many unexplored tracks yet. Why are we doing this? I'll tell you something ... Sit down for a moment and think about how looks your life. I think that looks like this: work-home / children / husband / wife-work ... Ok sometimes a fitness training or zumba is taking place but remember (and here I'll be honest; -) we age, the time whizzes through fingers like grains of sand. Our body without adequate treatment in the form of unprocessed food and exercise is speeding to the limit like crazy !!! What can you gain? First of all, health, strong heart, increase your physical attractiveness and self-confidence. Your children will benefit , you know like to be in constant motion and if they could romp with mommy / daddy is already in the general euphoria.We often hear: "But I do not want to have a very powerful muscles !!!" This is was I have to ask you: "Do we look like the daughters of Arnold ??? "
The 8-hour session can be contracted mainly hemorrhoids and after coffee and donuts your belly doesn't look good. That's why appeal to those who are work in office. If you want to try something new (at the beginning of give yourselves to us for two hours on the weekend) we can show you what they look like our workouts without pressure, calmly while assuring a heap of laughter (abdominal muscles work). Each started from something and we are a living example that everything is possible. Remember also that in Spartan Race is deficiency of women but handsome Spartan whole lot of what I think also for single is an additional motivation. We will give you helping hand in training or during the run but you only need to take once a decision different than before and I guarantee that you will not want to go back to old habits.
29 Dec, 2016,
No comments
5:00 a.m. "Ana you want the coffee from Macdonald? Damn it, closed off!!! "for Gruszka trauma for me it doesn't matter where I drink this warm dye: -)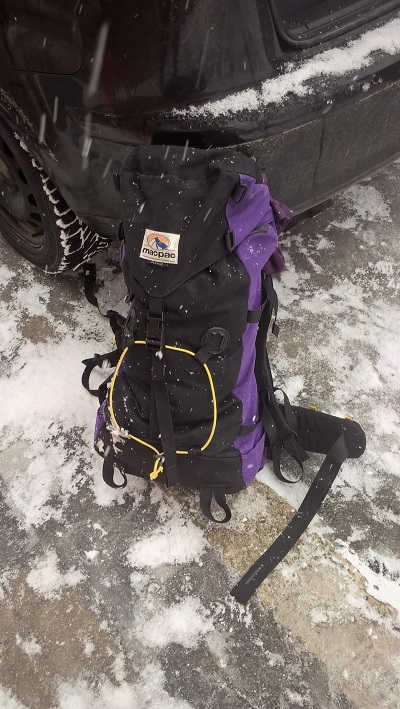 The rucksack packed, Marta and her suitcase on small wheels... come back!! Luna packed, her bowls and the feed also; -) as it in the winter now it is known - the rain, the awful route but Luna like a dog with ADHD, 3 hours standing behind my back (did sometimes the lap from left to right). On the way we are establishing the scenario as almost as to the schooting for National Geographic... You know, 4 cameras, supernumeraries, wolves and bear. Such commercial survival in the mountains. And so seriously it Kasprowy was a purpose the Peak but the crowned journey by sticking the SRTG flag Dębica and 30 burpees on the peak for spartans ; -)

At 10:00 on the point we are setting off. Equipment how it seemed to us complete (yeah what? there are cameras, phones, there are clothes, chocolate with nuts, water and climbing-irons it what for us more are needed?...)
Walk to Kużnica where everything began and where mingled...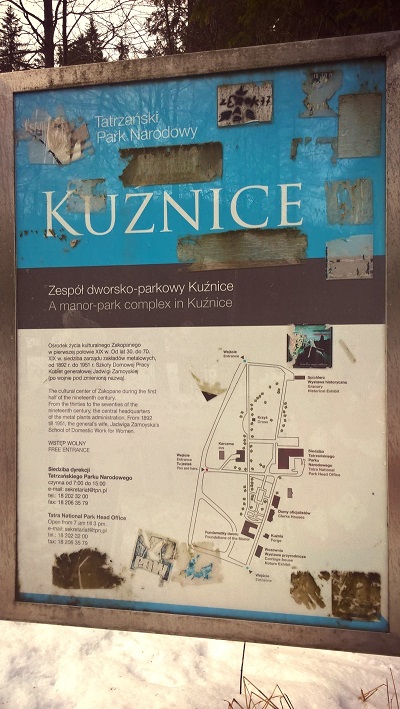 Gruszka - "I will buy the map ok? It will be useful ". I thought ok, to be in the mountains and not to have a map it's a disgrace after all.
Marta taking the map asked politely the lady behind the counter - "on Kasprowy which trail is the best today?"

For you - "today it to the right will be it more easily and in two hours you will reach"

How here not to trust "local"!!!

Everyone are going are also we.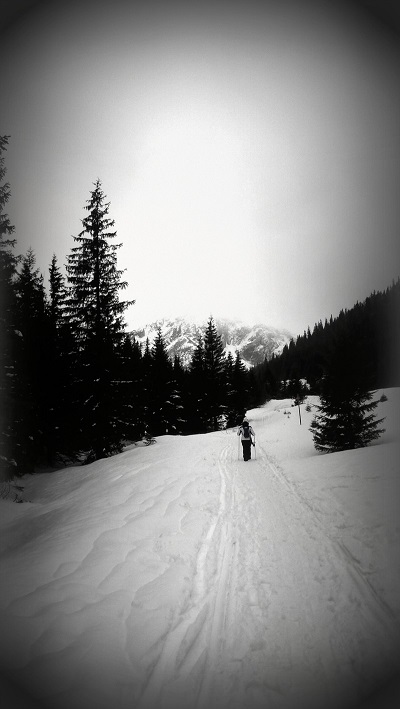 The route led from Kuźnic by Glade Kalatówki, Hala Kondratów and of just how it turned out during the journey to pass the Kopa Kondracka (Red Wierchy), which in favorable conditions it is possible to reach on the Kasprowy, I am repeating the favorable which certainly was not in that day ( 2 degree of avalanche danger, rain).
The road was good, it was warm and we admired beauties of our mountains. What more could you want;-)
Reached the Hall Kondratowa a little tired (which once more snow and the collapse of the difficult move and for that a little annoyed but whatever the goal is not far). That day all told us not to go there !! Do you believe in signs? Hehe we already so (Gruszkas phone suddenly stopped working, we forgot flag, thermoses were in the room ..) Tourist Armageddon !!

But we moved on ... and here only we, snow and beautiful views. Somehow a strange inner feeling that something is not right, that no one around, and no, I'm sorry there was someone else. Such a small black dot on the background of snow that we thought that it was probably the trail when someone goes there. Fear gave way to the euphoria that still only a piece of the "hill" (1728) and Kasprowy is ours. Nothing could be further from the truth, and if I knew then what I know now that no one forced me to go to that place that day.

The route was more and more danger, the snow more and more what ended unexpectedly collapsing at waist height. The one who led the way did the trail for another (ungrateful work).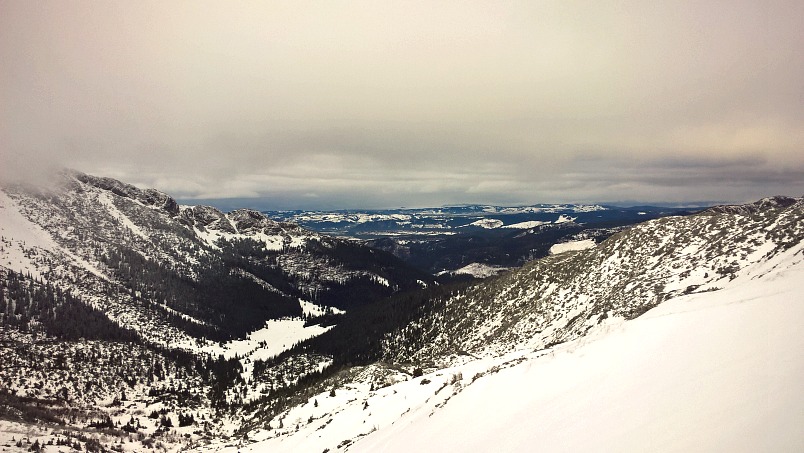 14:30 Kopa Kondracka reached. If not for the late hour Gruszka would be unstoppable, normally she went to a storm like Tommy Lee Jones in "The Fugitive," but I was there and politely dragged insatiable Spartan in a safe area.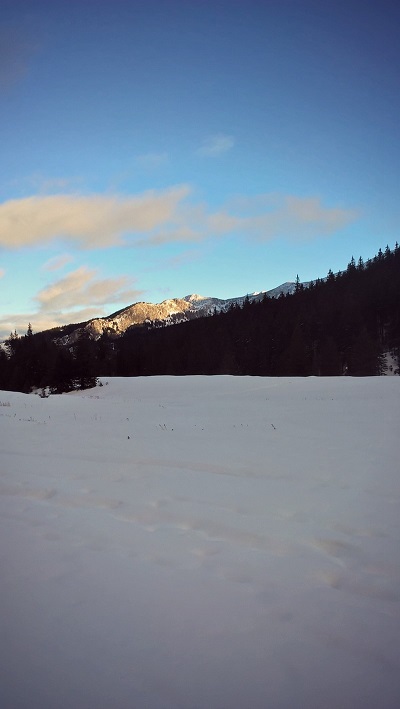 A little tired and hungry, we went back to the base. Ready, dog after a walk, fed, started as we all know Krupówki to eat something regional and drink ... :-) percentage .... to be continued.